Russian Alphabet "Richelieu" (65 mm)
SKU: O_0127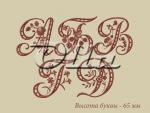 The set of 33 Machine Embroidery Designs "Russian Alphabet Richelieu" with the height of 65mm
Click on the picture to enlarge
The set includes all 33 capital letters of Russian Alphabet. The images of all letters are absolutely similar to "Alphabet Richelieu 100 mm" - you may take a look on it here: Russian Alphabet Richelieu(100mm)".
You can download the letter "Б" on approval for free: O_0127_2.zip (225.56 кб)
In the archive to this free design you will find instructions for embroidery (with photos).