Daisy
SKU: O_009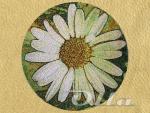 Machine Embroidery Design in Photo Stitch Techique
227х228mm; St: 108688; Clrs: 11;
In: VIP, HUS, JEF, PES
What the Photo Stitch is and how to embroider it you can find out in our illustrated Master-Class "What is a Photo Stitch?".
Click on the picture to see an enlargement
For formats "jef" and "pes" design is divided into parts that contain cross marks for alignment
To learn how to embroider a large design in a small hoops, you can in our tutorial "The alignment of big machine embroidery designs"
Olla used this design to embellish this box. The instructions are enclosed. You can also read about how to make the box on the Tutorials page.