"Scarlet Poppie 3D"
SKU: A058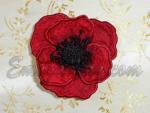 Machine Embroidery Design "Scarlet Poppie 3D" in FSL technique
Size of a collected flower is 75mm
In: DST PES VIP VP3 HUS JEF


Click on the picture to enlarge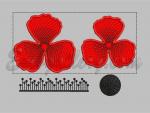 176x117mm; St: 15498; Clrs: 4/6;
4 Designs embrioders in one hooping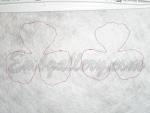 Before you start embroidering А058 Design, you should hoop water-soluble stabilizer into the hoops (only stabilizer without any fabric) and embroider the 1st color. It will show the fabric's place for an applique.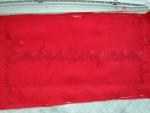 Lay the fabric on the water-soluble stabilizer and fix it with pins. Embroider the 2nd color - that's a temporary stitching which will fix fabric and stabilizer.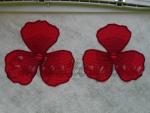 Embroider 3rd and 4th colors of the Design and cut the fabric as close to the stitching as you can, without touching water-soluble stabilizer.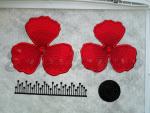 Embroider the Design up to the end. Than collect the flower like in this Master-Class: "Neck "Magic" - How to Embroider".