"Wild Orchid"_2
SKU: A077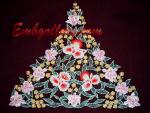 Set of 4 Machine Embroidery Designs "Wild Orchid"_2
In ZIP: DST PES VIP VP3 HUS JEF


Click on the picture to enlarge
Design is devided into parts for hoops 200x360mm, total size in finished form will be 543х471mm.
Дизайны набора следует вышивать в порядке увеличения нумерации файлов - от A077_1 до A077_4.
Set includes: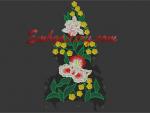 A077_1
199x351mm; St: 59769; Clrs: 7/7;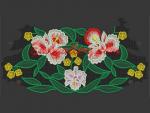 A077_2
357x181mm; St: 74415; Clrs: 7/8;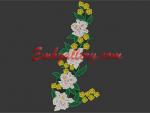 A077_3
155x350mm; St: 50895; Clrs: 6/7;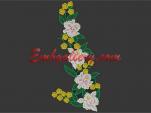 A077_4
155x350mm; St: 50634; Clrs: 6/7;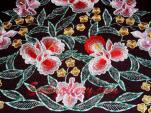 We used the winged needle to make it look like a drawn thread work while embroidering the first color (the background grid) on the product from the picture. To get such an effect, you should hoop fabric into the hoops without any stabilizer and embroider the first color. Than, without taking fabric out of the hoops, stick sticky tear away stabilizer to the back side and continue embroidery. Also, you can use melange yarn (green leaves, steam and yellow flowers in the picture are embroidered with such threads).