"Winter has come"
SKU: I080_300х400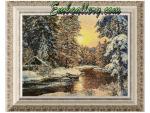 Machine Embroidery Design in Photo Stitch Technique "Winter has come"
398х297mm; St: 308286; Clrs: 13;
In ZIP: DST


Нажмите на фото для просмотра картинки в увеличенном виде
If your hoops is 200x300mm, please click here to buy this design divided into parts for 200х300mm hoops.
What the Photo Stitch is and how to embroider it you can find out in our illustrated Master-Class "What is a Photo Stitch?".