"Easter Napkin in FSL"
SKU: J190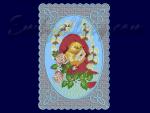 Machine Embroidery Design "Easter Napkin in FSL"
197x292mm; St:77509; Clrs: 17/26;
In: DST PES VIP VP3 HUS JEF


Click on the picture to enlarge
The Design embroiders using water-soluble stabilizer.
The order of embroidery:
1. From color № 1 to 22 inclusively - embroiders the medalion's Design.
2. Color №23 - a line, which points on the place where water-soluble stabilizer should be.
3. Put water-soluble stabilizer and stitch it with the tread №24.
4. Take the hoops off the machine, carefully cut the fabric close to the stitch from the reverse side without cutting water-soluble stabilizer.
5. Put the hoops into the machine, continue embroidery up to the end.
6. You can pick any color you want for the last thread.
7. Rinse out and iron the napkin.