"Fun company"
SKU: J209_1 / J209_2 / J209_3 / J209_4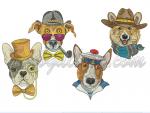 $38.00
Set of 4 Machine Embroidery Designs "Fun company"
Click on the picture to enlarge


The designs are fine to decorate bags, backpacks, pillows, pictures.
Designs can be purchased as separate, and the entire collection as a whole. The full collection is sold at a discount.


THIS SET INCLUDES MACHINE EMBROIDERY DESIGNS: