"Eagle Rock-n-roll"
SKU: R034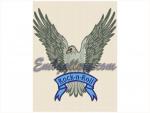 Machine Embroidery Design "Eagle Rock-n-roll"
The size of the ready Design - 375x419mm
The Design is made in two variants for different types of fabric and it's devided for 200x300mm hoops.
Crosses for aligning are marked.
In: DST PES VIP VP3 HUS JEF


Click on the picture to enlarge
Variant for the light stretch fabric:
R034А
297х193mm; St: 33329; Clrs: 7/5;
R034B
297x193mm; St: 33547; Clrs: 7/5;
R034C
293x200mm; St: 35655; Clrs: 12/15;
Variant for the dense fabric:
R034_1А
297х193 mm; St: 46215; Clrs: 7/5;
R034_1B
297x193mm; St: 46530; Clrs: 7/5;
R034_1C
293x200mm; St: 39346; Clrs: 12/15;
If you're a happy owner of an industrial embroidery machine with large hoops (in which will fit the whole Eagle of 375x419mm), message us - we'll collect this Design into one, without division into parts.