"Grape Wreath"
SKU: R043_1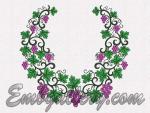 Machine Embroidery Design "Grape Wreath"
200х182mm; St:33054; Clrs:3/3
In ZIP: DST PES VIP VP3 HUS JEF


For machines with small hoops design is divided into 2 parts. There are aligning crosses for easy alignment
Click on the picture to enlarge
The set includes:
R043_1A: 118x177mm; St: 14878; Clrs: 4/3;
R043_1B: 118x183mm; St: 17123; Clrs: 4/3.
Design is perfect for "Grape Border"