"Set for National Shirt in Cross-Stitch"
SKU: T23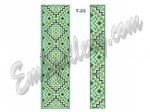 Set of Machine Embroidery Designs for a national shirt in Cross-Stitch technique
In: DST PES VIP VP3 HUS JEF


Click on the picture to enlarge
T-23-1-1, T-23-1-2
84x142mm; St: 37543; Clrs: 5/5;
T-23-2-1
30x70mm; St: 7654; Clrs: 4/4;
30x68mm; St: 7461; Clrs: 4/4;
30x70mm; St: 7663; Clrs: 4/4;
The set includes:
1. A half of a border (the second half should be embroidered symmetrically).
Additionally it's divided into 2 parts.
2. To create a neckband or a cuff you should use parts Т-23-2-1, Т-23-2-2 (medium rapport), Т-23-2-3.
So, the cuffs are embroidered with: Т-23-2-1, Т-23-2-2, Т-23-2-3.
For the neckband Т-23-2-1, Т-23-2-2 ( 4 parts) Т-23-2-3.