Baby
SKU: Y002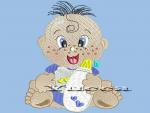 Free Machine Embroidery Design by Yucca
138x185 mm
St: 26521
Clrs: 10
DST JEF PES VIP HUS
The bottle is made with applique, embroidered first.
Click on the picture to enlarge
We used the design to decorate this "Baby Blanket" and this "Crib".
Click to download here: Y002.zip (416.23 кб)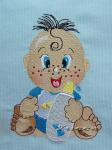 This is the embroidered design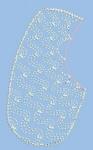 When you cut the fabric of application around the bottle, please cut to the right not along the curve line of fingers, but approximately along the pink line at the picture. When the embroidery is ready, the small bulge imitating the nails of a baby shall appear in this place. To obtain the same effect on the right hand, it's lower face shall be embroidered with white threads.
Here is one more note: such design is better to embroider on fabric of light colors, as dark-colored fabric can be seen through the cover of face, hands and legs.