Russia Beauty – Gzhel - Embroidery instructions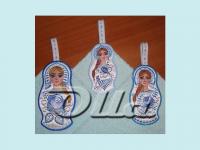 Every hostess at least once in her life had a situation when a dishcloth slipped from a holder and dropped down on the floor. If you have an embroidery machine, this won't be a problem anymore. You can sew a towel topper, and what a towel topper! A real Russian beauty in Gzhel technique, which is both functional and very pretty. It will be an amazing present for a friend!


Russia Beauty – Gzhel
Collection of towel toppers - http://en.embgallery.com/O_0113
Click on the pictures to enlarge
For embroidery you'll need:
A towel, white fabric for an applique, glued with interfacing webbing for a loop.
Hoop the water-soluble stabilizer.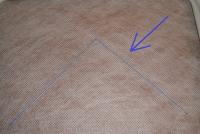 Embroider the first color. This arrow points on the exact position of the towel in the hoops.


Fix the corner of the towel with temporary bonding adhesive along to the embroidered line. Make sure that the towel is fixed well and won't shift during the embroidery.


Embroider the next Design's color.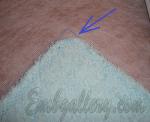 This is the contour of a future Matryoshka doll.
Cut the protruding of towel close to the line.


Next color in the Design is the place of binding a loop hanger. I used a ready webbing which I fixed with a scotch tape on water-soluble stabilizer.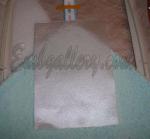 Then fix the fabric for the applique with temporary bonding adhesive in the hoops. Earlier embroidered contour will point on the exact place of the applique.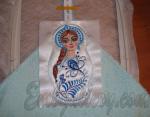 Embroider everything inside of the Matryoshka doll – the girl and patterns.


Take the hoops off the machine and fix the second piece of fabric on the other side, bottom part of hoops.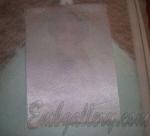 Embroider a line to fix the underside of topper.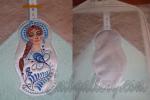 Then cut surpluses of fabric from the upper and bottom parts of hoops. Try to cut as close to the line as you can.
Put the hoops back to machine and embroider the last part of the Design.


When the embroidery is completed, cut the surplus of stabilizer.
Wash away what's left with a wet sponge. Your towel is ready. Enjoy!