"Voiced Summer"
SKU: A006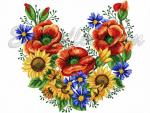 The set of Machine Embroidery Designs "Voiced Summer"
277x260mm; St: 83141; Clrs: 18/21;
In DST PES JEF VIP VP3 HUS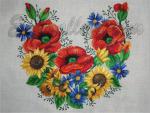 This is a stitch-out of the design


Embroidered blouse with this design can be seen here
The Design is divided on parts for hoops of different sizes, crosses for aligning are marked
Pay your attention to the sequence of embroidering parts.
Out of 3 parts - A006_1 should be embroidered the first, than Designs A006_2 and A006_3 in any order.
Out of 2 parts - first A006_4, than A006_3.
Part A006_4 deployed, directions of warp and lengthwise strings are matching with the directions of aligning crosses lines.
Click on the picture to enlarge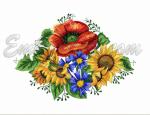 A006_1
233x166mm; St: 39606; Clrs: 18/21;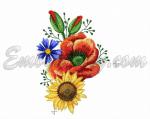 A006_2
144x182mm; St: 22060; Clrs: 17/21;


A006_3
124x193mm; St: 21410; Clrs: 17/21;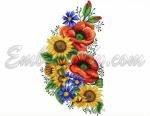 A006_4
173x305mm; St: 61885; Clrs: 18/22;


One more variant of dividing the Design into 2 parts for 180x300mm hoops. Part A006_5 should be embroidered first and only than - A006_6
Attention! After checking the second part, before the embroidery, aligning crosses should be cut off. Otherwise one of the crosses will be under the embroidery.
The designer decided to arrange the cross like that consciously so the aligning will be more qualitative.
A006_5
277x165mm; St: 35908; Clrs: 17/20;